Study in Australia consultants in Hyderabad
IVY Overseas is the Best Study in Australia consultants in Hyderabad. Australia as a destination has been attracting students for more than two decades now and it is one of the highly sought after destination along with the USA, the UK and Canada among the international students for its university research, reputation of the universities, qualifications recognition globally, programs that are highly aligned with the industry needs, student safety, quality of life and standard of living, part-time and post study work rights for international students and last but not least the opportunity to permanently migrate to Australia post graduation subject to conditions set by the government being met.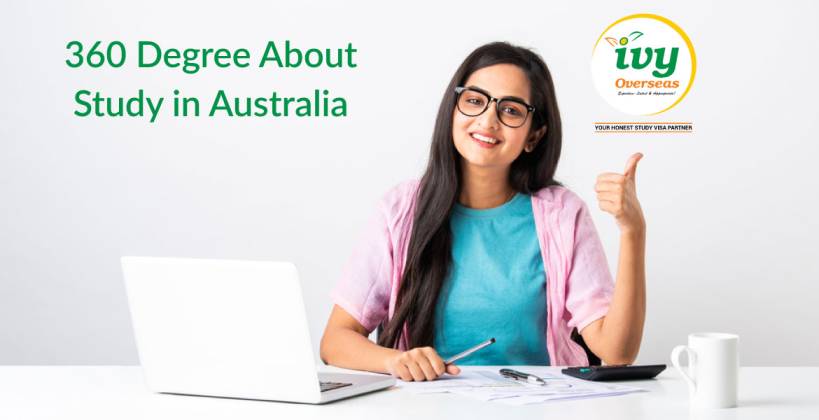 Study in Australia : Education Landscape
The Australian education landscape consists of universities (public, foreign and private owned) and TAFE (Technical and Further Education) providers and PTEs which are private training education providers
Universities: Public, Private and Foreign (There are 43 universities in Australia. Out of which, 40 are public, 2 foreign and 1 private)
TAFEs: Technical And Further Education (they are similar to polytechnics in India and Community Colleges in Canada)
Private Colleges: There will be PTEs in all the states and territories of Australia
Why should you choose to study in Australia?
There are many reasons why Indian choose to study in Australia and the Australian Government is inviting students to come and study in their country by showcasing their universities world rankings, research potential and its research impact on millions of lives across the globe and scholarships for the meritorious students and post study work rights for international students to be able to work and gain some experience to boost the value of their resume. Some of the popular reasons why students choose to study in Australia are furnished below
Universities across Australia enjoy a reputation globally for their quality of research, teaching quality, student engagement and graduate employability
Huge program choice that fits into your academic needs and career goals like - Information Technology, Computer Science (AI, DS, ML, AR, VR, Business Analytics, Cyber Security, Cloud Computing, Internet of Things and Information Systems), Engineering (Civil, Construction Management, Structural, Electrical, Renewable Energy, Mechanical, Advanced Manufacturing), Business & Management, MBA, Accounting & Finance, Public Health, Healthcare Management, Pharmacy and Sports Management, Agriculture Science, Hospitality & Tourism.
Scholarships and bursaries upto 35% on the tuition fee for the whole program duration for the academically meritorious* .
Admission process is very simple and transparent - 60% and above in Bachelors + English proficiency test (IELTS/PTE) + Statement of purpose which outlines why you choose Australia and say X University and Y program and how the chosen university and program would help you down the line to achieve your professional goals or career aspirations.
The best in terms of post study work visa in comparison to any country - students upon graduation can stay upto 6 years depending on which city they live and study*
Melbourne, Sydney and Brisbane need no introduction for the quality of life, living standards and opportunities for the highly competitive and perpetually optimistic.
Students are allowed to work 48 hours per fortnight when the classes are ON and full-time which is 40 hours per week during academic breaks. And the national minimum wage is $21.38 per hour which is the highest in the world.
International students with degrees in areas of skill shortages will have an extra 2 years to stay and work in Australia under the new visa changes announced by Education Minister Jason Clare. Under the changes bachelor degree graduates will be able to stay for 4 years, up from two. Master's graduates will have their post-study work-rights visas increased from three to five and PhD graduates will be able to stay six years, up from four.
Scholarships to study in Australia
Australian universities have very liberal scholarships to help students with the financial aid to embark on the journey of study in Australia to achieve their academic needs and career goals. Most of the universities offer academic merit scholarships which are linked to the academic percentage that the student has scored in his Class 12 and his undergraduation like B.Com/BBA/BSc/ B.Tech and alike. To decipher it more easily few scholarships offered by some of the universities are mentioned below for your reference (they are limited to the year 2022).
La Trobe University
* If the student has 55-69.9% and he is eligible for 20% Scholarship for all section students*.
* If the student has 70-74.9% and he is eligible for 25% Scholarship for all section students*.
* If the student has 75+ and he is eligible for 30% Scholarship for all section students*.
Deakin University
* If the student has 55-74.9% and he is eligible for 20% Scholarship*.
* If the student has 75% and above and he is eligible for 25% Scholarship*.
Swinburne University
* Flat 30% scholarship for all stem programs at bachelor and master level*
University of Wollongong
* 20% for all applied students*
* 30% if the student has 65% and Above*.
Melbourne Institute of Technology
* Up to AUD3320 (Master of Networking - All majors - AUD2600, M-engineering (Telecommunication) AUD3320, M-Data Analytics -AUD3200)*
Central Queensland University
* Flat 25% for all applied students*
James Cook University, Townsville
* International Excellence Scholarship 25% tuition fee deduction on total fees of 2 years on meeting the academic criteria*
Federation University
* 20% Global Innovative scholarship on entire fee*(For Section 1 & 2 eligible for 2nd Division and For Section 3 must need 1st Division)*
* 25% Global Excellence Scholarship (Only for Section - 1 must need 1st Division)*
Interesting facts about Australia
Geographically, Australia is 2.5 times the size of India, but the population is just 2.6 crores approximately. Hence there is lot of space for the country to accommodate more and more people to economically develop the country. As such the Government has a BIG HEART for skilled migrants. As per the statistics, 29.1% of the population is born overseas. Indians account for 2.8% of the Australian population.
Australian inventions that impact millions of lives globally, few of them are mentioned below
* Black box flight recorder
* Electronic pacemaker
* Medical application of penicillin
* Google Maps
* Cochlear implant (bionic ear)
* Polymer bank notes
* Wi-fi technology
* Ultra sound scanner
* Plastic spectacle lenses
* Inflatable escape slide and raft
The above inventions from the Australian Universities is a testimony to the fact they conduct world-class and ground-breaking research and hence few Australian Universities always find their place in the world rankings like QS World University Rankings and Times Higher Education World University Rankings.

Study in Australia : Intakes, programs and entry requirements

The academic year in Australia is from February to November. Summer officially lasts from 1 st December to 28 th February. Australia university courses generally start in February/March with some courses having an additional intake in June/July and October/November.

Intakes:

Semester/ Trimester 1: Starts late February/early March to late May/early June
Semester/ Trimester 2: Starts late July/early August
Semester/ Trimester 3: Starts September to late November

Programs:

Ph.D. - Typically takes 3 to 5 years
Masters (Research/Thesis-based) Typically 2 years
Master (Coursework) 1 year to 2 years
Bachelors – Typically 3 years / Bachelors (Honours) – 4 years
Diploma – Typically 2 years

Language Proficiency Requirements

IELTS International English Language Testing System (Academic)
* Ph.D. – Usually 6.5 overall score)
* (Masters Usually 6.5 bands with no less than 6. Some however accept overall 6*)
* (Bachelors Usually 6 bands with no band less than 5.5 bands)
PTE Pearson Test of English
* (Ph.D. Usually an overall score of 61)
* (Masters Usually 58 with no band less than 50. Some however accept a lower score and some ask for a higher score*)
* (Bachelors Usually an overall score of 52)

Study in Australia : General Admission Criteria

Universities accept both 15 years and 16 years of education
Ideally the percentage must be a min of 60% and above. However, the exception is some universities accept 55% and above and backlogs (unsuccessful attempts/fails) to the tune to 10 to 15 (university and program specific this is)
Language proficiency: The most common tests are IELTS and PTE
SOP is a must for all the universities at the time of admission
Evidence of employment, internship credentials, vendor certifications and cv, if you have to be submitted at the time to application to university

Cost of studying in Australia

Well this question has different dimensions because the cost depends on the state you choose to study, the university and its reputation, the program and the level of study. For your understanding, brief information about the cost of studying in Australia is mentioned below for your reference.

Bachelors: AUD 20,000 to AUD 40,000 a year
Masters: AUD 20,000 to AUD 50,000 a year
Ph.D: AUD 20,000 to AUD 50,000 a year
Living Expenses: As per the government of Australia,as of October 2019, the 12-month living costs are; For students or guardians - AUD$21,041. For partners coming with you - AUD$7,362. For a child coming with you - AUD$3,152. living expenses 24550 AUD

*Please note all figures are indicative

Documents required for an Australian student visa(Subclass 500)

All your academics that are used in support for an admission to an Australian university
Proof of enrolment (eCOE - Electronic Confirmation of Enrolment)
Visa application fee
Proof of health examination
Proof of English proficiency
Proof of funds to establish that you can meet the tuition fee and living expenses without having to work while study
Genuine Temporary Entrant statement
Any internship or experience documents, if you have
Passport with a minimum one year validity from the date of intake commencement

Study in Australia : Post Study Work Rights

The opportunity to stay in Australia to work and gain valuable professional experience to enhance the career prospects at the global level and back in India has always been a game changer for students choosing to study and zeroing on a destination to study, live and work abroad. Australia has increased the post study work rights for international students to attract more and more students and to make its student visa policy highly attractive for international students. Depending on the city, the level of program a student chooses to study, he/she would qualify for a post study work rights for upto 6 years under the present circumstances!