Study in UK Consultants in Hyderabad
IVY Overseas is the Best Study in UK consultants in Hyderabad. The United Kingdom, made up of England, Scotland, Wales and Northern Ireland, is an island nation in northwestern Europe. England birthplace of Shakespeare and The Beatles – is home to the capital, London, a globally influential centre of finance and culture. The United Kingdom is a developed country and has the world's fifth-largest economy by GDP. It was the world's first industrialized country and the world's foremost power during the 19th and early 20th centuries.
LONDON - Its the UK's centre for entertainment/TV, music, politics and business. It is so much in the one place and hence students love for the city is enormous. London, therefore, is fondly called as " A city for international students."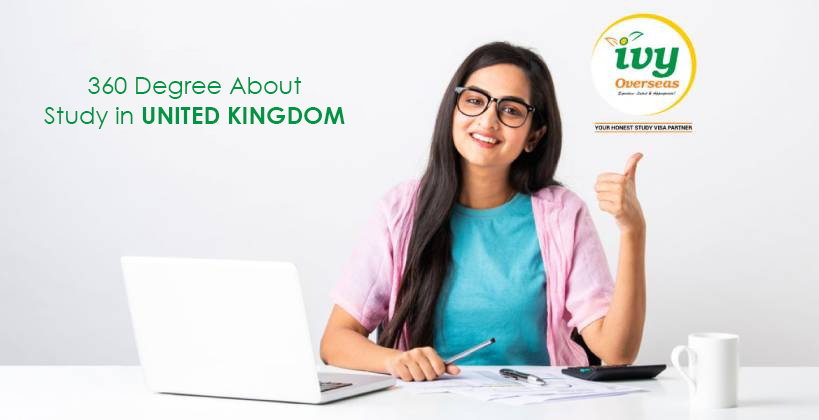 Study in the UK : Education System
Universities in the UK are basically classified into
Ancient Universities
Red Brick Universities
Modern Universities
Higher Education : It is provided by three types of institutions in the UK. And, they are Universities, Colleges and Institutions of Higher Education. All universities are autonomous institutions and they determine their own admission policy and requirements.
University education in Britain comprises of two phases
* The undergraduate programme
* The postgraduate programme.
Undergraduate programs:
1) With very few exceptions, undergraduate programmes are honours programmes at bachelor's level.
2) Duration: mostly 3 years, but there are 4-year undergraduate programmes, such as the so-called sandwich programmes with an extra year in which students obtain work experience (through a work placement).
3) Study load: 120 credits per year, i.e. 360 credits for 3 years of study.
4) Assessment: Presentations and essays.
Post-graduate programs:
1) Masters by instruction - based on attending a curriculum
2) Master by research - based on research and a thesis
3) Duration: mostly 1 year for ordinary Masters, and 2 years for the Master of Philosophy.
4) Study load: 180 credits for 12 months of study.
5) After doing 120 credits - a student can exit with Postgraduate Diploma (PGDip)
Qualification grading:
British universities use a classification system to indicate a student's actual performance, with classes based on the average results achieved:
* First class - 70% and above.
* Upper second class - 60-70%.
* Lower second class - 50-60%.
* Third class - 40-50%.
The Scottish education system is comparable in many ways with the education system of England, Wales and Northern Ireland.
Undergraduate - Undergraduate programmes for an honours degree last 1 year longer than for an ordinary degree (4 years and 3 years respectively, in most cases)
Postgraduate - Scottish institutions also offer integrated long (5-year) master's programmes which in effect combine a bachelor's and a master's, although in the end only a master's degree is conferred.
Why Study in the UK?
There are many reasons why Indian choose to Study in the UK, some of the popular reasons why students choose to Study in the UK are furnished below
Home to the global brand and centuries-old universities like Oxford and Cambridge
Oldest and universally reputable education system
Strong research infrastructure and industry focussed curriculum
Flexible masters to choose from and typically one year in duration
Cheaper tuition fees than other English-speaking study abroad destinations like USA, Australia and Canada
You'll meet people from all over the world which builds cross-cultural experience
Excellent Healthcare system. From common cold to heart surgery - everything is free
Financial assistance in the form of scholarships for international students
Students are allowed to work 20 hours a week while study
Culture - an experience of a lifetime. Almost all cities in the UK have museums and castles besides beautiful countryside
Most cities have amazing bus services which are pretty affordable for commuters, big cities have trams and metros (London underground) which provide easy and convenient public transport facilities
The UK is a world leader in many areas of education including engineering, science, art and design, business and management, law and finance.
One in four countries has a world leader educated in the UK. Manmohan Singh (an economist and former PM of India studied in the University of Cambridge), Tony Abbott (former PM of Australia studied in the University of Oxford), Malcolm Turnbull (successor to Tony Abbott also studied in the University of Oxford), Singapore's PM Lee Hsien Loong left Cambridge as a Senior Wrangler (means top Mathematics undergraduate). Mahatma Gandhi, Jawaharlal Nehru, Indira Gandhi and few others were distinguished Indian personalities who studied in the UK
Study in UK : General Admission Criteria
Bachelors with 55% and above
If the student has any experience, then the experience has to be justified with conclusive evidence
IELTS of 6.5 bands with no band less than 6, TOEFL (ibt) 84 overall and nothing less than 20.
Most of the modern universities have waived the language proficiency requirement, provided the student has 70 or above in Class 12 English
Applications need to be made to UCAS and you will need to make sure you gather all the information together in order to apply - this will include: * Test scores and requirements the University has for international students (please check with the university you wish to attend as they will guide you on this) * A personal statement * A reference letter * Payment to UCAS
Applying for UK Student visa
You will be eligible to apply for a Student visa if you can claim the 70 points required under this tier. 70 points are allocated as follows:
* 50 points - Confirmation of Acceptance of Study (CAS)
* 10 points - Finance requirement / proof of fund
* 10 points - English language proficiency
Required Documents for Visa
* Academics: Class 10, Class 12 and Bachelors / Masters (yearwise, provisional and consolidated).
* Financial requirement:
i) Proof of funds have to be consistently held 28 days old funds. Education loan, Savings a/c balance and FD
ii) Eligible sponsors for visa: Student himself/herself and his/her parents

How long you can stay - You can arrive in the UK before your course starts:
* Up to 1 week before, if your course lasts 6 months or less
* Up to 1 month before, if your course lasts more than 6 months
Read More : Admission to Visa Process
Study in the UK : Masters with placements/internships
Many universities across UK have started delivering Masters program with internship so that students gain hands on experience. Internships are a great way for students and recent graduates to gain some valuable work experience, and also act as a helpful screening tool for employers who may be considering offering the intern a more permanent role.
Scholarships to Study in the UK
Many UK higher-education institutions offer their own scholarship programmes.

| University | Scholarships in GBP |
| --- | --- |
| University of Hertfordshire | Upto 1000 |
| Chester University | Upto 2500 |
| University of bedfordshire | Upto 1500 |
| Greenwich University | Upto 4000 |
| University of east london | Upto 2500 |
| Northumbria Newcastle | Upto 3000 |
| University College Birmingham | Upto 1500 |
| De Montfort University | Upto 2000 |
| University of Northampton | Upto 3000 |
| LSBU | Upto 3000 |
| Manchester Metropolitan University | Upto 2000 |
| Canterbury Christ Church University | Upto 2000 |
| Glasgow Caledonian University | Upto 2000 |
Study in The UK : Intakes and entry requirements
Intakes: September, January & May
Entry Requirements
UG : Class X, Intermediate with 60% & above, IELTS*, LORs, Resume, SOP, Passport
PG : Class X, Intermediate, Bachelors with 55% & above, IELTS*, LORs, Resume, SOP, Passport, Work Experience (If Applicable)
Cost of studying in The UK
Sample funds calculation
* Tuition fee - GBP 12000 (approx)
* Living expenses (inside London) - 1,265 per month
* Living expenses (outside London) - £1,015 per month

Visa fee - It costs £348 to apply for this visa from outside the UK. You must pay £348 per person for any dependants.
*Please note all figures are indicative
Post study work / Graduate Immigration Route (GIR):
The Graduate Immigration Route is a new route for international students to extend their stay legally post-graduation in the UK for 2 or 3 years and look for a professional job to gain experience in the globally competitive environment that will enhance the value of their resume. International students who have been awarded a degree (Bachelors/Masters/Ph.D) to stay in the UK and work, may apply for Graduate Immigration Route. Bachelors and Masters graduates will be granted for 2 years and three years for doctoral students.