Study in Canada consultants in Hyderabad
IVY Overseas is the Best Study in Canada consultants in Hyderabad. Canada is the 15th largest (Purchasing Power Parity) country in the world and one of the world's wealthiest nations. The Canadian economy is dominated by the service industry which employs about three quarters of the Canadians. Canada is roughly the same size as the United States (3.8 millon square miles), but only has 1/10 the people (34.6 million). It's three times the size of Mexico, with 1/3 the people. The northern half is so cold for so much of the year that the ground remains permanently frozen. As a result, 90% of the people live within 100 miles of the US border. Canada has been ranked by the UN as one of the best places in the world to five. MTV Cities in Canada are very popular which stand for Montreal. Toronto and Vancouver. Traditionally a country of immigrants, Canada has a policy of encouraging multicultural diversity and a healthy living environment.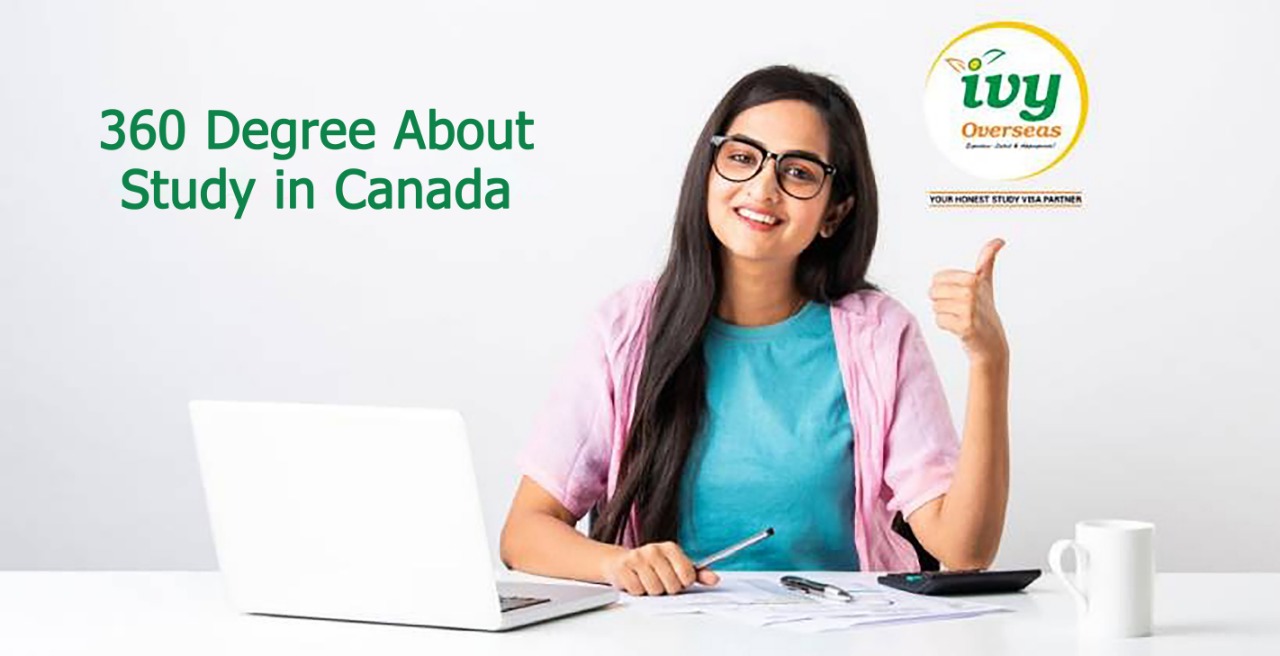 Study in Canada : Facts about Canada
* Canada along with USA and NZ top the list of world's most generous nations
* Canada is the 2nd largest country in the world geographically only after Russia but less densely populated.
* One of the cliches you'll hear about Canadians is that they're forever apologizing even though it was clearly your fault.
* They are highly progressive. Canadian Prime Minister Justin Trudeau announced his cabinet in 2015 which is made of an equal number of women and men, two aboriginal members, and five from the Sikh community.
* Canadians are outdoors, and they have one passion that allows them to enjoy the great outdoors. fram skiing and snowboarding to hiking, mountain-biking, rock-climbing, comping, canoeing and snow-shoeing.
* They are extremely friendly and voluntarily will offer to help you. They are like that
* Ottawa is the capital of Canada, but it is like the Canberra - the capital of Australia which most people seem to have ever heard of
* Canada's most popular coffee shop is Tim Horton's, a chain founded by a former ice-hockey star.
* Toronto is Canada's largest city. It's a global centre for business, finance, arts and culture and is consistently ranked one of the world's most livable cities.
* 26 Canadian institutions are counted among the best in the world, according to Times Higher Esco tion's World University Rankings 2018
* Canadian education is cheaper than the USA application process is simple and more opportunities for Permanent Residency
Study in Canada : Education System
Education in Canada is both publicly and privately funded thus leaving the parents to choose the in stitution of their choice for their children. It is controlled by the Provincial govemments like we have state board for every state with a bit of Federal say in it.
• More than 130.000 students come to study in Canadia every year
• The Canadian academic year typically runs from September through to June every year.
• The country is justifiably proud of its universities and colleges
• Students from all over the world come to Canada for their tertiary education, & Canadian degrees are recognized everywhere.
The institutions are categorize into the following
Universities : Canadian higher education system is distinctly marked by institutions which are publicly funded. They offer the following programs in different fields
Community College : They are again publicly funded institutions with career and jobs focus & train students to join the industry immediately

Types of Programs
* M.Eng-Master of Engineering-Degrees that require coursework and a project, with the coursework being the major component.
* MASC-Master of Applied Science - Degrees that require coursework and a thesis, with thesis being the major component. Typically takes 2 years to complete and students can apply for scholarships for these degrees.
* Post-Secondary Diplomas-2 years in duration
* Advance Diplomas-3 years in duration
* Graduate Certificates/Post Graduate Diplomas - 1 or 2 years in duration
Academic Year
* Universities: Septmber and January
* Colleges: Septmber, January and May
English proficiency: For PG Diplomas it is usually 6.5 overall with no band less than 6 and few colleges will accepet 6.0 overall with no band less than 6 and for UG Diplomas it is 6 overall with no band less than 6.
SDS and NON SDS (Study Direct Stream
The Student Direct Stream (SDS) is an expedited study permit processing program for those who are applying to study in Canada at a post-secondary designated learning institution (DLI). Conditions to be eligible to apply for a study permit under the SDS route are:
1) IELTS (academic) of overall 6 with no band less than 6
2) Upfront one tuition fee payment to the DLI (Designated Learning Institution)
3) One year living expenses to be transferred and GIC (Guaranteed Investment Certificate) to be obtained
4) Visa outcome in 15-to-20-day time and the visa approval rate is very high

Non-SDS If you do not meet any of the above 3 conditions, you have to apply for a visa under the non-SDS route and usually under this route the visa processing takes a longer time than the SDS and visa approval rate is relatively low too
Study in Canada : General Admission Criteria
* Colleges - Submit academics, passport, IELTS and obtain offer letter
* University - B Tech transcripts in sealed envelope, 2 or 3 recom- mendation letters from your professors in sealed envelope, a very impressive SOP, 10th, 12th & PP Xerox with notary, few cases score (GRE, IELTS, TOEFL) reporting, Univ recommendation letter to be filled by your professor, evidence about internship/work experi- ence, extra-curricular credentionals & CV / Resume.
* Pay the tuition fee and transfer living expenses and obtain the GIC.
* If you are applying for a study permit to Quebec based institu- tions, you have to apply for CAQ (Certificate of Acceptance of Quebec) before proceeding with visa launch.
* Get your medicals / health check-up done (appointment is must).
* Prepare an impressive SOP outlining your objective of stucking in Canada and aligning the same with your career goge arter graduating from the Canadian institution.
* Now get your visa forms filled online and then book an appoint ment for biometrics which will cost CAD $85 and then submit the visa application in VFS office in Banjara Hills. The visa fee is CAD $150 and no prior appointment is required for submission.
* Visa decision on your application will be out in max 4 to 6 weeks time.
Part time and post study work in Canada
* Students are allowed to work part-time for 20 hours when the classes are ON and full-time during semester breaks.
* Students upon graduating from the colleges/universities in Canada with a post-secondary diploma advance diploma, bachelor's degree, post graduate diploma or a masters degree may apply for c visa extension to work and gain professional experience in Canada. Depending on the duration a your program, you may be eligible for PGWP (Post Graduation Work Permit) from 1 year to 1.5 years of to a maximum of upto 3 years. You have up to 180 days after you graduate to apply for a PGWP