Study in New Zealand comprehensive guide
International students have a lot to gain from New Zealand in terms of education and job prospects while and post graduation since the economy is going strong.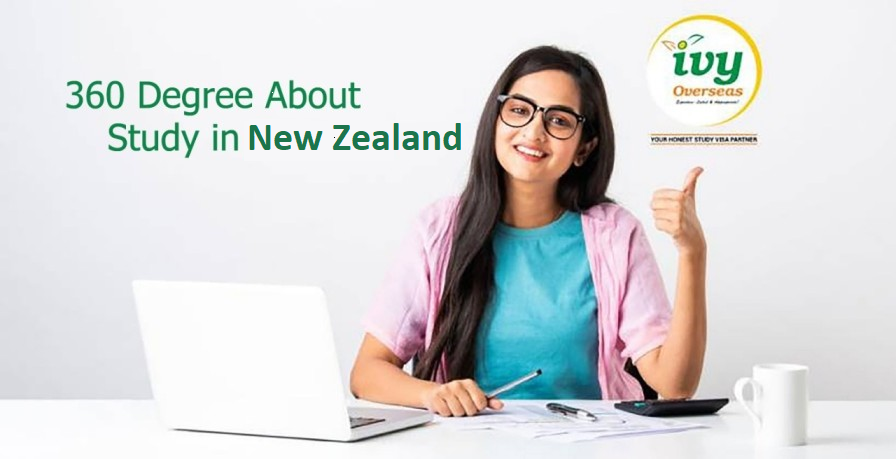 Overview
New Zealand is very famous for its laid back lifestyle, picturesque attraction which are no less than a beautiful photograph with a XLR camera and second to none in the world in their lifestyle which is unique in their own way. There are lot of migrants (students and working professionals) who made New Zealand their home and happily earning for themselves and their families and contributing to the economy of New Zealand.
Economy of New Zealand
It is an agrarian economy (dairy and tourism are the main economic activities of the people) and is largely based on international trade with such countries like Australia, China, USA, European Union and Japan. The largest trading partners are Australia and China. It does have a size able service sector which does decent contribution to the GDP of New Zealand. Information and Communication Technology and Tourism industry receive a great attention and focus from the New Zealand which is primarily done with the intent to have makeover to the image of New Zealand.
Education System in New Zealand
It is without debate one of the best in the world and is British education based. It is essentially a 3 tier model with 1) Primary and Intermediate Schools, 2) Secondary Schools and 3) Tertiary education in Polytechnics or Universities. The academic year typically varies between early February and until late November. The public educational system is one of the best funded in the world; New Zealand offers the highest percentage of public funding in education in the world.
Higher education is incredibly important, and we will explore it more in our sections that focus on the higher education systems. There are eight universities throughout the country, along with 18 technology institutions and over 600 training schools which help with specialized skills. Five of the universities in New Zealand are considered to be in the top 50 of the world's universities according to the QS World Top 500 rankings. New Zealand is known for its business, technology, engineering, medicine, and biological sciences, and the schools are world class. The higher education program is subsidized by the New Zealand government for permanent residents. New Zealand's education system consistently ranks amongst the best in the world.
"New Zealand has great schools" "New Zealand is not crowded" "New Zealand is not too expensive" "New Zealand is a friendly country" "New Zealand has great beaches" "New Zealand has great diving" "New Zealand has great skiing" "New Zealand is clean and green".
Though New Zealand is same the size of Japan or Great Britain, but there are lot of reasons why one should consider New Zealand for further study or higher education.
Level 7 – Bachelors – 3 years ( +2 student with IELTS of 6 bands with no band less than 5.5).
Level 7 – Grad Diploma – 1 year (Graduation with IELTS of 6 bands with no less than 5.5).
Level 8 – PG Diploma – 1 year (Graduation with IELTS of 6.5 bands with no less than 6).
Level 9 – Masters – 1 or 2 years (Graduation with IELTS of 6.5 bands with no less than 6).
Level 10 – PhD – 3 to 5 years (Graduation with research experience and IELTS not must)
New Zealand from Student Prospective
It's a beautiful clean country, so much fresh air and heaps of places to visit. It's a beautiful place, so many open green spaces. It's like living in an oil painting. The teachers here are great, they really care and you can ask them anything. The teachers are really supportive and there is a big community of international students and especially Indians. Kiwis are so friendly, they say hello to strangers and make living here awesome. I do so many things besides studying. I go walking, bike riding and meet friends. It is a fun place to live. Quality of life is so high that they do not have congestion, pollution and health issues. Fresh air, clean and green environment, friendly people and everything from metropolitan cities to a large countryside NZ is a great place to live in
Education Assessment
There are tests, project works, tutorials, assignments and final exams which are continuous assessment throughout the academic year unlike in India which is one time.
Climate

Climate is very mild and doesn't get uncomfortably hot or cold with four distinct seasons.
Summer — December, January , February (J,F –warmest) — 20 to 30 degrees.
Autumn — March, April, May.
Winter — June, July (coldest month), August — 10 to 15 degrees.
Spring — September, October, November
Four seasons in a day: Warm and windy to a torrential downpour and back to sunny skies is quite usual in New Zealand sometimes. Therefore, it is advised to pack everything when you go o
Student Visa Process
Have all your academics (say 10th, 12th or/and Bachelors), Passport, English competency proof (IELTS, PTE or TOEFL) ready to apply to either a Polytechnic/University.
Apply to the institution of your choice and one week is usually the turnaround time for offer letter. Once the offer letter comes, a student then arranges the funds and annual income to be shown in the visa file to be submitted to Immigration New Zealand.
Proof of funds accepted typically are – Education loan from Nationalised Bank, Personal loan for the purpose of education, Fixed deposits, Savings account balance, Provident fund, Postal savings and sponsorship from your immediate and extended family members.
Income proof: You can submit any source of income of your family, be it salary, business income, rental income, agriculture income and commission income.
Students then need to get the health check up done and obtain Police Clearance Certificate from the Regional Passport Office or Passport Seva Kendram.
Get the visa forms ready, a statement of purpose outlining in a very persuasive way why you want to study in New Zealand and what are your long term plans for investing in New Zealand education and alike.
Visa fee has to be a DD in the name of Ministry of Business, Innovation and Employment and a DD in the name of TT Services.
INZ usually takes typically 3 to 4 weeks for assessment of your application and then if everything is authentic and genuine; a student is issued approval in principle (AIP).
Upon obtaining AIP from INZ, the student has to pay one year tuition fee and if necessary one year living expenses to ANZ Bank in New Zealand.
Mail INZ the AIP conditions and then they usually take 5 days time to dispatch the passport endorsed with the final visa to the consultant A student can usually travel to New Zealand one month prior to the course start date.